News Archives >> January / February / March / April / May / June / July / August / September / October / November / December
===========================================
January 30

■ Let's Request To Radio Station


<<< Click Here
はい。ちょっと遅くなりましたが今週から日本のラジオチャートでもILTを1位に輝かせるためにリクエストを積極的に皆でやっていきましょう!まだどこもエントリーしていませんがじゃんじゃんリクエストしてまずはエントリーさせましょうね。海外のラジオ局のwebsiteにリクエストやってましたが、やっぱ毎日やってると結構しんどいんですが、結果的にチャートが上がってくれると嬉しいですもんね〜。日本も頑張りましょう。

===========================================
January 29

■ The Secret Life of Mariah Carey




She's the super-private diva who doesn't speak for days at a time. But, for Blender, Mariah Carey opens up about her "horrific" childhood, her friend ODB — and how to spend $28 million.

By William Shaw, Blender, March 2005

In his office, Island Def Jam chairman Antonio "L.A." Reid is playing tracks from the unfinished CD The Emancipation of Mimi. The volume is high. A Dyptique candle burns; the Mona Lisa screensaver on his 20" iMac smirks at him as he strides across the room, grinning madly as he plays air keyboards.

"Isn't it fantastic?" he asks as he dances.

It is, of course, hard to take the head of a label seriously when he's enthusing so wildly about his own product. What else is he going to do? But that aside, it's clear that what we're listening to is a return to form, of sorts. It may not be a '90s vintage, multi-multi-platinum piece of finely honed diva pop. But it is a compulsively listenable collection of vibrant, self-assured, dare we say understated R&B songs.

And hovering around the album, swooping in and out of each song, is the Voice. If it ever went away, it's back. That sometimes-husky, sometimes-silky thing that is stretchier than elastic and yet simultaneously accurate to at least ten decimal places.

It's been a long journey for 34-year-old singer Mariah Carey. From her position as the MOR queen of the early '90s, she cleverly reinvented herself in the second half of the decade as R&B's first lady with a series of high-profile hip-hop collaborations. Financially, The Emancipation isn't ever going to be the runaway 25-million seller that 1993's Music Box was, but these are clearly songs from someone who's as artistically sure-footed as she's ever been.

L.A. Reid leans across the desk. "The real thing I've learned about Mariah," he says, "is that she's an innocent. At heart, she's a little child."

"Really?" says Blender skeptically. After selling tens of millions of records worldwide, after being married to one of the most powerful people in the record industry and dealing with some of the most hardnosed names in hip-hop, she's a little child?

"Yes," insists Reid. "In spite of everything…"

To read more about Mariah's traumatic childhood, friendship with the Wu-Tang's ODB and what happened with Glitter, check out the March issue of Blender, on newsstands February 8!

おぉ〜っ。来月8日発売の雑誌「Blender」で表紙を飾ってる姫様ですが早くもBlenderのサイトで写真がUPされました。有りがちなショットですが、なかなかエロさ満開でいい感じですね(笑)インタビューではまぁアルバムについての事やLAリードが語るMariahの話や亡きODBの話やGlitterのことなど書かれているようです。Blenderは普通にHMVやTRや大型書店などでよく見ますので皆さん普通に購入できますので是非GETしましょう!姫から私への素敵なB-day Presentになりそうです♪

I Source: Blender I


■ "It's Like That" at Sirius Satellite Radio




Mariah Carey hangs with Sirius Hits 1's Jason Drew and Sirius Hip Hop Nation's Amanda Diva. Mariah recently spent more than five hours at SIRIUS' NYC headquarters to conduct interviews with channels SIRIUS Hits 1, Hip-Hop Nation, Hot Jamz, Heart & Soul and MAXIM in anticipation of her upcoming album, EMANCIPATION OF MIMI.

NYのシリウス・ラジオでのインタビューのためラジオ局に訪れた姫ですがなんとこの日は同局の番組のそれぞれのインタビューのために5時間も滞在していたようです。

I Source : Sirius Satellite Radio, Thanks to Mariah Daily I

===========================================
January 27

■ "It's Like That" climbs to No. 36 on Billboard Hot 100




In its second week on the Billboard Hot 100, "It's Like That" moves up seventeen places to No. 36 after its debut last week at No. 53.

っということで今週のHOT100で先週の53位エントリーから17位ジャンプアップし36位にまで上がってきました。今週はラジオでのインタビューに頻繁に登場してただけによい結果がでていると思います。来週にはPV撮影も終えいよいよ本格的に映像効果も出れば再来週あたりにはTop5までいっちゃう可能性ありですね。で、別に意味はないんですがJackも応援したいなぁ〜っと思い、勝手にデビューさせました(笑)結構可愛いなぁ〜っと自分ではお気に入りです(笑)訴えないでね(爆)

I Thanks to Mariah Daily I

===========================================
January 26

■ Japan " The Emancipation Of Mimi " Album Release Date

Release Date : April 6, 2005

アイランド・デフ・ジャムよりマライア・キャリーのニュー・アルバムに関するプレス・リリースが発表されました。内容は下記の通りとなっています。なお、日本では4月6日の先行発売を予定しています。詳細は決まり次第このサイトにて発表していきますので、引き続きチェックしていてください。

マライア・キャリー、『The Emancipation of Mimi(仮)』リリースの準備完了(2005年1月25日)ニューヨーク発

史上最高のセールスを誇る女性アーティスト、マライア・キャリーが待望の新作『The Emancipation of Mimi(仮)』をアイランド・デフ・ジャムよりリリースする準備が整った。早くも今年最も注目されるリリースの一つと評されているこの作品は全米で4月12日に発売となる。

最新シングル「イッツ・ライク・ザット」(ジャーメイン・デュプリと共作)は全米ラジオ局へ1月24日に配信され、今週のビルボード誌のHOT100にホット・ショット・デビュー(新曲の中でも一週間で最多オンエアを記録)で初登場53位にランク・インする。これは彼女とって過去約5年間で一番高いチャート・インとなる。同曲のミュージック・ビデオはハリウッドの映画監督、ブレット・ラトナー(『ラッシュ・アワー』、『レッド・ドラゴン』を監督)

マライア・キャリーはアルバムの全曲を制作、または共作し、アントニオLA・リードがエグゼクティヴ・プロデューサーとして全制作過程を監督した。主なゲスト参加アーティストにはスヌープ・ドッグ、ネリー、そしてトゥイスタ、プロデューサーとしてはザ・ネプチューンズ、カニエ・ウェスト、そしてジャーメイン・デュプリを迎えている。

I Source : Universal Music Japan I

===========================================
January 26

■ " It's Like That " Cover


IT'S LIKE THAT: USA COMMERCIAL RELEASE
12 inch of "It's Like That" will be hitting USA on 15 February, 2005.

iTUNES SELL IT'S LIKE THAT
If you live in the Unites States you are in for a treat. Mariah's latest offering "It's Like That" is now available to buy on iTunes USA.

Support Mariah, buy an iTune of ILT that today, priced at only 99cents: http://www.itunes.com

おぉ〜これがILTのジャケットのようです。普通にシンプルでいい感じだけどなんだかプロモ盤みたいな感じですね(笑)
I Source: RPN Group, MariahCarey.com I

===========================================
January 25

■ Mariah Carey Set To Release "The Emancipation of Mimi" on April 12, 2005

Mariah Carey, the best-selling female artist of all time, is set to release her highly anticipated album, The Emancipation of Mimi, on Island Def Jam. Already being heralded as one of the hottest releases of the year, the album is set to arrive in stores on April 12th (and one day earlier in territories outside the US).

The new single It's Like That (co-produced by über-producer Jermaine Dupri), which was officially released just yesterday, is already a top 20 hit on the Rhythm chart and this week's Hot Shot Debut on the Billboard Hot 100, with over 35 million in audience - all without the support of a music video! The music video will be shot next week by Hollywood A-list director Brett Ratner (Rush Hour, Red Dragon).

おやおやおや....。公式に発表されたニュースですが、TEOMは当初予定していた3月22日発売から4月12日に延期になりました。WHY??? って事は日本盤は1週間の先行と考えて4月6日発売が妥当でしょうか...。う〜む、残念。ちょっと遅いね。あと、ILTのPVディレクターには噂に上がっていたポール・ハンターではなくHBを撮ったブレット・ラトナーを姫様が選んだようです。撮影は来週だそうです。またストーリー的なものになるんでしょうかね?ビアンカ久々に出てきたらいいのに。

I Source : HBF, MariahCarey.com I

■ Mariah Carey Pushes Back Album, Films Music Video

Mariah Carey has pushed back the release date of her tenth studio album, The Emancipation of Mimi, to April 12th. Originally set for March 22nd, the new three-week delay will apparently allow more time for Carey to put the finishing touches on the record and finalize its cover-art and packaging.

It will also create an apt moment to fully promote the record's lead single "It's Like That", which, as of tomorrow, will officially be sent to radio stations nationwide. Carey is currently gearing up to film a music video for the single. Although she had initially met with director Paul Hunter to discuss possible treatments, the singer has chosen Brett Ratner, who helmed her $2.5 million "Heartbreaker" clip back in 1999, to direct her new music video.

The video is scheduled to be shot next week. Unconfirmed reports suggest that the Bellagio Casino in Las Vegas will be the video's central filming location. The resort was famously featured in Steven Soderbergh's Ocean's Eleven, and infamously in Rick Salomon's One Night In Paris.

The Emancipation of Mimi, which was entirely written and co-produced by Carey herself, will feature collaborations with Snoop Dogg, Nelly and Twista.

上記と同じニュースですが、TEOMの延期の理由には、まだ姫がアルバムの総仕上げにかかってるということとジャケ選びってとこですか。また、これはどこからともなく出た噂らしいのですがILTの撮影現場にはベガスのBellagio Casinoを予定しているらしい。このカジノ、映画オーシャン11でも有名なカジノです。じゃぁ今までLAにいた姫様って一体....(笑)まぁこれは本当かどうかわかりませんが...。

I Source: Nuage9 I

JAMN 94.5 FM - Boston, Massachussetts

The Ramiro and Pebbles Morning Show played their inteview with Mariah this morning. Stay tuned to ramiroandpebbles.com for audio. This is what they talked about:
-- The last time they talked to Mariah was during the "Charmbracelet" era and claimed that Pebbles was the inspriation for the title.
-- "The Emancipation of Mimi" album title and Mariah explained it, but Ramiro said its too deep for him to understand.
-- Talked about how she went on tour and she said that was good for her voice and she "got in a good space vocally" and that "this record is vocally, the best work shes done in years by far".
-- The making of the album and working closely with L.A. Reid and how this album is more about like just having fun and not having to deal with a lot of issues. And that nobody was telling her that she had to make a certain kind of record dealing with drama just so they could go on oprah and whatnot. With this album it was more fun and free.
-- Her dog Jack and his websites, and how some people come to her concerts dressed up as Jack.
-- This brought them to Mariah's fans and how dedicated they are, and the DJs were sayin that's a little weird and Ramiro said "you have the most pyschotic fans" and just how they defend Mariah no matter what. They were basically makin fun of the fans, but Mariah got defensive and said "well I think they just know that I actually do care about them" and "I'll stand up for them just as much as they stand up for me!"

ラジオのインタビューで今回のアルバム制作についての課程やL.A.リードについてのことなどお話していたようです。そしてまた、LLJの話とファンの話もしていたようです(笑)「ファンの皆は私が関心あるものをよく知ってるわ」っと言ってたようです.

I Source: John Osterholt,RJA366, Mariah Daily I


■ Weekly Multimedia File Up Dated

++ Got To Be Real / Patti Labelle with Mariah
++ Lady Marmalade / Patti Labelle with Mariah

>>> Check It Out !!! <<<


■ Carey Gives Dog First Class Flight


Pop beauty MARIAH CAREY was so lonely during a Los Angeles video shoot last week (ends21JAN05) - she paid a staggering $2,850 (GBP1,500) to have her dog flown first class from New York to be with her.

The GLITTER star was moved from a rented Hollywood Hills apartment into Los Angeles' Peninsula Hotel, after fears her forthcoming music demo would be hindered by recent floods.

But she was miserable in her suite, until her beloved Jack Russell, JACK arrived to keep her company later in the day, reports British newspaper THE SUN.

An insider says, "Mariah felt the only thing that could comfort her was Jack. So he was flown in later the same day."

おぉ〜っ。お犬様事件です(笑)ただ今ILTのPV撮影のためLAにいる姫様ですが、思ったより滞在期間が長引いたのか段々寂しくなってきてNYの自宅でお留守番をしているJackをファースト・クラスに乗せて滞在するホテルまでJackを連れてきたそうです(笑)先日の洪水の影響で撮影が大幅に遅れたりしてプロモーションに影響を及ぼすのを避けるため滞在しているペンションからホテルに移り変わったようです。ちょっとナーバスな状況の中で姫様を元気付けて癒してあげれるのはJackしかいないと周りの人たちも言ってたようです。すごいね〜Jack!本当に可愛がられてますよね〜。飛行機の中ではおとなしくしてたんでしょうか?(笑)

I Source : contactmusic.com I

===========================================
January 24

■ Mimi talked about "Love Love Jack"

Download Hot 99.5 Interview

MARIAH CAREY IS BACK!!!
And hotter than ever! She got her new single out and everyone who's anyone is talking about it! Check her out as she gets messy!
LISTEN!

あぁああああああああっ!っと。昨日の朝はこの嬉しいニュースを知り一日仕事になりませんでした(笑)D.C.のラジオ局のインタビューでDJがMTV Cribeの話からJackは元気?っという話からはじまり、Jackのwebsiteが二つあって一つが日本のファンの子が作ってるLove Love Jackよ。っと言ってくれてました。その後の話は早過ぎて聞き取れません(爆)誰か教えてください(苦笑)なんかママがJackがど〜たらこ〜たら言って可愛いとか言ってるような気がするのですが、よくわかりません(爆)とにかく何が一番嬉しかったかと言いますと、ちゃんとHPの名前を覚えてくれていることでした。Thanks Mimi:)

I Source: HOT99.5.com , The Mariah Network, Thanks to Nathan, J.A.Mesquida I


■ New Voice Message

Hi! Hey lambs. Yeah, I had a whole big plan to leave a nice festive message with Trey and everyone from the studio, but we got carried away doing the remix for "It's Like That", but the good news is I think you're going to like it.

And the other news is that Trey ain't here right now. I'm by myself. We all basically had to take some time and get some sleep because it was a long night in the studio. But anyway, I figured a little message by myself would be better than not calling at all, so I'm just calling you to say I love you, appreciate you, and enjoy you, and I can't tell you how grateful I am for just everything that's going on with the single right now. I know you guys are really doing your thing out there and being extra, extra supportive as always. I can't thank you enough.

I'm so excited and so happy and I just wanted to let you know that hopefully soon, we will have a nice Big Nasty skit prepared for all of the Big Nasty fans. And I will be calling in as soon as I can make that happen, and if I can't make it happen quick enough, I'll just call you back and check in again. Okay, I love you much and will chat with you later. Bye, bye.

ILTのRemix撮りのため数日スタジオに篭りっきりで皆あんまり寝ていなかったようで暫し休憩の時間に姫が皆にメッセージを残してくれました。姫様はILTの好調な滑り出しについて皆が頑張ってラジオ局にリクエストしてくれてるおかげで早くもチャートインしてるおかげを本当に感謝してくれています。また、もうすぐ近いうちに皆とチャットする時間も作ると言ってました。

I Source : Mariahcarey.com , Thanks to Mariah Daily I

===========================================
January 23

■ Discography Page Up Dated

HPを作っていて何が一番気にしていたかといいますと、このDiscographyのページを完成させていなかったことでした。ファンだからこそ頑張って作れるコンテンツだと思いますのでやらねばやらねば...っと自分に鞭を打ちながらやっと少しずつできてきました。まだ半分も作ってませんがレビューを読んで頂いて久しぶりに聞いてみよっかな〜っとか思って頂ければ嬉しいのですが....。とりあえず今出来てるのはEmotions, Music Box, Butterfly, Glitter,の4作です。順番バラバラですが特に意味はありません(笑)思いついた作品から作ってみただけです。徐々に完成させていきますのでお楽しみに。


■ 12inch " It's Like That " Release Date

Release Date : 02 / 15 / 2005
Catalog No: B000423011
Island / USA

おぉ〜っと。12"が2月15日に発売のようです。USシングルは同じ時期に発売になると思われますが、日本は今のとこ3月9日のようですね。遅い。

I Source : HMV Japan I

============================================
January 22

■ New song title "We Belong Together"

New song title: "We Belong Together"
On a radio interview today, Mariah said that she and JD did a song together called "We Belong Together". She also said it is a mid tempo ballad.

Mariah recorded an interview with Z100
After they played ILT she said that she just spoke to MC, and they recorded an interview and she will air it in a couple of days.
Mariah on Doug Banks show next week .He said she will be on his show next week.

Wendy Williams is using "It's Like That"
Wendy Williams is using the instrumental as the backdrop while she talks on her show.

The video being shot next week
Mariah did an interview on KTU in NYC and she said she is filming the video next week and the week after and that she will then be in NYC to start promotion.

またアルバムからの新しい曲名が発表されました。JDとの共作で「We Belong Together」という曲のようです。結構いろいろこれまでに発表されていますが、今回もまた多そうですね。噂では19曲収録って話も出ているようです。また、ILTのPVは今週と来週で撮り終え、その後はN.Y.でいよいよプロモーションを開始するとのことです。

■ Mariah's interview on 103.5 FM Chicago summary

The DJ is telling MC that she looks hot on the cover of Blender magazine!
MC says: "Is that out yet?"
The DJ just told MC that Paris Hilton is afraid of butterflies. MC laughed.
MC said she only became a butterfly fan after writing Butterfly because everyone started giving her butterfly things.
MC said that the album came out as a leak and she was excited because now DJs are playing it. YAY!
MC said that she is very tight with her fans. The DJ is commenting on her the New Years voicemail she left us. The DJ played the voicemail and MC said: "Is that me?" She said she wasn't drunk yet when she left that. Lol
MC is not going to Trump's wedding this Saturday. *MC laughs!
The last time MC was in LA it was major rainfall. The house she rented flooded! Lol
The DJ loved Wisegirls. MC loved making the movie and she loves Mira Sorvino. MC wants to get back into making Indie films and being able to be creative with her part. Wisegirl's producers saw MC on The Rosie O'Donnell Show and Rosie was commenting on MC's outfit and MC went into her Long Island accent and Mira made the producers call MC for the Raychel part.
MC talks about her Broadway musical in New York. As well as performing her songs off the Christmas album, MC is writing new songs for the musical and she's gonna be on Broadway by X-mas.
The DJ said: "You've dominated pop music since the 90"s"!
MC said: "It's Like That" is a party record and everyone should have a good time!
The interview ended and the DJ played: "It's Like That."

来月発売のBlenderマガジンの表紙を飾ってる姫ですがもうすでに刷り終わりラジオ局のDJが手にとって見てたようで、姫がもう出回ってるの?っと初っ端から驚いてました(笑)雑誌の表紙を飾ったことでパリス・ヒルトンを脅かしてるね〜っと軽いジョークに姫も笑いながらインタビューがはじまったようです。ここでは今度N.Y.で計画しているクリスマス・ブロードウェイ・ミュージカルについてお話しており、姫のクリスマスアルバムから何曲か使い、また新たにこのミュージカル用に姫はペンをとってるようです。

I Source : Heroes Of Mariah I

■ マライア・キャリー最新曲試聴&ヒストリー

"90年代最大のディーヴァ"のカムバックなるか? マライア・キャリーが3月に待望のニュー・アルバムを発表する。90年代末期以降、ブリトニー・スピアーズからアヴリル・ラヴィーン、アシュリー・シンプソンに至るまで、10代のティーン・セレブの台頭著しいアメリカの音楽界であるが、それに対し90年代ダントツのヒットメイカーだった彼女がどんな回答を示すのか。注目される。


■ 放った全米No.1ソングの数はビートルズ、エルヴィスに次いで第3位!

1990年、ある1曲が全米音楽界を震かんとさせた。その曲の名は「Vision Of Love」。なんと、7オクターヴという、ポップ・ミュージック史上、前代未聞の圧倒的な声域をふんだんに駆使して歌われる、そのハートフルなゴスペル・ナンバーを前に音楽界は「とんだ天才シンガーが登場した」と、ハチの巣をつついたような騒ぎとなり、たちまち世間一般にまで浸透した。そしてそれは、"マライア・キャリー"という90年代最高のヒットメイカー誕生の瞬間でもあった。

そこを起点として、マライアは90年代を疾風怒とうのごとく駆け抜けて行った。白人的なポップネスと黒人的なR&Bのソウルのバランスをうまい具合にキープしながら、彼女は独自の道を歩み、全米No.1ヒットを連発させて行った。「ビジョン・オブ・ラブ」「ラブ・テイクス・タイム」「アイ・ドント・ワナ・クライ」「サムデイ」「エモーションズ」「アイル・ビー・ゼア」「ドリームラヴァー」「ヒーロー」「ファンタジー」「ワン・スウィート・デイ」「オールウェイズ・ビー・マイ・ベイビー」「ハニー」「マイ・オール」「ハートブレイカー」「サンク・ゴッド・アイ・ファウンド・ユー」。今、これをお読みになっている方も聞き覚えがあるに違いない、これらのナンバーを、彼女は全米チャートのトップに送り込んだ。その数、実に15曲。これはビートルズ(20曲)、エルヴィス・プレスリー(17曲)に次ぐ、史上3位の輝かしい記録であり、マイケル・ジャクソン(12曲)、マドンナ(12曲)、ホイットニー・ヒューストン(11曲)、ジャネット・ジャクソン(10曲)と、同時代を生きたほかのアーティストと比べてみても頭ひとつリードしている。これら以外でも、「ウィズアウト・ユー」、そしておそらく日本ではこれが最大の人気曲と思われる「恋人たちのクリスマス」などがあることから考えても、マライアが90年代にいかに"時代の歌声"として君臨したかはおわかりいただけるだろう。


■ 夫との別離、時代の変節に悩んだ90年代末

そんなマライアであったが、良いことばかりでは決してなかった。彼女が90年代のトップスターであることには間違いはない。だが、それは"カルチャー・イコン"を同時に意味するものではなかった。マライアは、ショービズ界が最高にきらびやかだった80年代の雰囲気を90年代に継承した、ほとんど唯一と言っていい存在だったのだが、しかし、それが故に、彼女はグランジやヒップホップに代表される"普段着のストリート感覚"のミュージック・カルチャーとはイメージを異にしたのだ。同じ90年代のスーパースターでも、彼女がニルヴァーナやオアシス、トゥパック、TLC、メアリー・Jブライジなどと比べてどこか違うのはそういう理由からだった。それが彼女を、「"記憶"よりも"記録"」とばかりに、ヒット量産の道へひたすらに向かわせた一因にもなっていたのだろう。

だが、そんなマライアも徐々に歯止めが効かなくなってくる。彼女の夫であり、所属レコード会社(当時)の社長にして名マネージャーのトミー・モトーラと離婚して、マライアはしだいに自分自身がコントロールできなくなってきたのだ。正統派のバラードシンガーから、本格的なR&Bの転身を目指すこと自体は良かったが、見た目のセクシーさの強調の方に重きが置かれ過ぎて、肝心の歌の方のキレが薄まって行き、楽曲自体もある時期(おそらくは「ファンタジー」あたりからか)から目立った進歩なし。加えて、大スターゆえの言動の数々にまつわるゴシップの方が目立ちはじめ……。そうしているうちに、マライアは、ちゃんとした演技経験のないまま臨んだ主演映画「グリッター」で致命的な失敗を負ってしまう。そして、時代はまさにブリトニー・スピアーズやビヨンセを筆頭としたティーン・ガール・セレブの時代。21世紀のティーン・ガールたちにとって、30歳を過ぎたマライアはすでにリアリティを伴わない存在となってしまっていたのだった。


■ 基本に立ち返り、"女王復活"を狙うマライア

こうして、21世紀の幕開けは、向かうところ敵なしの女王様状態だった90年代が信じられないくらいに、マライアにとってはほろ苦いものとなった。主演映画の興行的失敗により所属レーベルから解雇されるという、"泣き面にハチ"な状態を迎えてしまったマライアは、2002年、起死回生を狙うべく、レーベルをユニバーサルに移籍して、アルバム「チャーム・ブレスレット」を発表。このアルバムは先行シングルの「スルー・ザ・レイン」からも明らかなように、マライア本来のしっとりしたソウルフルな歌いっぷりを戻した一作にはなった。にもかかわらず、この作品でマライアが「女王の座を奪還した!」というインパクトを世にアピールするまでには至らなかった。

それから2年あまり。これまでコンスタントに作品を発表し続けて来たマライアが珍しく長い時間をかけて充電。そして、「今度こそ、復活作を!」とばかりにニュー・アルバムをひっさげて戻ってくる。

その待望の新作だが、「まさに原点回帰」とばかりに、内容的には"これこそ、マライア!"と、古くからのファンを納得させるものになるのでは、といううわさが早くも飛び交っている。プロデュースを務めるひとりに、「ファンタジー」で、マライアのライトなR&Bサイドのイメージを強烈に焼きつけた、今や大御所のひとり、ジャーメイン・デュプリ。マライアとは基本的に相性の良いデュプリだけに、彼がマライアの才能のどこをどう生かすことで、新たなる"マライア・クラシック"を生み出して来るか、楽しみなところ。

そして、もうひとりの気になるゲストとしては、あのネプチューンズのファレル・ウイリアムスがいる。"触れるものすべてをヒットに変える"と評判のこの男は、つい先日も大御所ラッパー、スヌープ・ドッグ(彼も今回の新作には参加!)に実に久方ぶりとなる大ヒット曲「ドロップ・イット・ライク・イッツ・ホット」を提供したばかりだが、そんなファレルが"おれが再生工場!"とばかりに、マライアに次のような熱いエールを送っている。

「おれはマライア・キャリーを"マライア"から"マライア・キャリー"に戻したのさ」。この言葉の真意が一体何を意味するのか。大いに注目されるところ。

元来、その圧倒的な技巧を持った"歌声"で、時代を制してきたマライア。そんな彼女が、今どきのティーン・セレブたちから女王の座を奪還するためには、やはり、"歌声"と、それをいかすための楽曲、しかない。数々の偉業を可能にして来たマライア本来の実力を21世紀のティーン、そして、昔からのファンにどうアピールするか。要注目である。

なんか久々にMariahについて長々と解説してくれていたので載せてみましたが、中盤から読んでたら結構正直ながらも失礼なこと書いてますが...。(爆)まぁ今作を期待している記事だと思っておきましょう。

I Source : Wise Sport I


============================================
January 21

■ Damizza & Mariah Carey




1 Mizza - Dirty ( Feat. Mariah ) >> Click Here <<
2 Mizza - Inst
3 Mizza - Acapella
4 So Dope / Butch cassidy & Knoc-Turn'al - Dirty
5 So Dope / Butch cassidy & Knoc-Turn'al - Dirty LP
6 So Dope / Butch cassidy & Knoc-Turn'al - Inst

DAMIZZAがゴーカ・ゲストと盛り上げるホッツ・シングル日本上陸!

BABYREEとPLAYGROUNDのダブルネーム仕様で送る新作はまずA-SIDEにJAY-Z"JIGGA MY N‥GA"のトラックまんま使いで、フックの「ジ〜ガ〜」を「ミ〜ザ〜」に変え、あのMariah Carey嬢が歌うというモアモア・キャッチーな"MIZZA"を収録!変わってB-SIDEはBUTCH CASSIDY & KNOC-TURN'ALを迎え、自身はプロデュースに徹した"SO DEEP"を収録!こちらは甘すぎない西海岸メロウ的な仕上がりで実にイイ〜カンジ!!プレス数も少ないようなのでお早め購入を推奨します!

Awwwwwww!これって以前噂に出てたDamizzaのあのCDからのトラックでしょうか?去年の暮れに出てたみたいなんですが今頃気がつきました(汗)とっても脱力感たっぷりでいい味だしてますよ。

I Source : Cisco Records I


■ "It's Like That" named Hot Shot Debut, opens at No. 53 on Billboard Hot 100

After Mariah Carey's physical breakdown four years ago, the subsequent flop of her movie and soundtrack Glitter, and the bevy of bad press that followed, the one-time reigning "princess of pop" was put in a unique, albeit tough, position both career-wise and personally.

Although Glitter, the edgy and upbeat soundtrack album, was generally celebrated among critics (Rolling Stone dubbed the concept record "a big step forward in terms of maturity"), the negative reviews for the banal and downtrodden film of the same name were harsh enough to send Carey into the opposite musical direction.

The result was 2002's Charmbracelet, a mellow and mostly un-inventive release touted as a return-to-form to the superdiva's mid-1990 balladeering days. The album was introduced with "Through The Rain", a conventional and sparsely-produced tune about overcoming adversity. Carey's record label undoubtedly thought the inspirational ditty would remind listeners of past hits like 1993's "Hero", but the music industry's acceptance of swooping ballads had greatly changed, and the single stalled at an unimpressive No. 81 on Billboard magazine's Hot 100 singles chart.

Though Charmbracelet certainly had its standout moments, the record's follow-up singles "Boy (I Need You)" and "Bringin' On The Heartbreak" faced an even worse fate than "Through The Rain" at radio outlets, receiving minimal play and little fanfare. Things were certainly looking bleak for the once-invincible songstress, but Carey took the setbacks with stride and is now finding herself on the brink of a major comeback.

Just a little over two weeks since its premiere at radio, Carey's new single "It's Like That" has accumulated more airplay than all of Charmbracelet's singles combined. This has merited the singer the title of Billboard's Hot Shot Debut, where "It's Like That" makes its bow at No. 53 on the Hot 100 singles chart. Over on the Hot R&B/Hip-Hop singles chart, the tune moves to No. 44 after debuting last week at No. 58, the highest new entry for the singer in more than five years.

"It's Like That" is the first single from Carey's forthcoming Island/Def Jam album release The Emancipation of Mimi. She co-produced the single with long-time collaborator Jermaine Dupri, who recently hosted a mix session for Carey's album with engineer Phil Tan at Silent Sound Studios in Atlanta. The record is due in stores due March 22.

おぉ〜。早くも今週のビルボードチャートの結果が出ているようで、今週姫様のILTはついにHot 100のシングルチャートで53位にデビューしたようです。これは過去5年のうちで一番良いポジションでのスタートとなったようです。また、先週すでにチャートインしてるR&B/HIPHOP部門でも14位UPの44位にまで上がってきました。ラジオ解禁から2週間ず〜っとラジオでのエアプレイがすごいらしくMariah復活の文字を毎日何らかの記事で目にしますよね〜。本当に嬉しいですね!

I Source : NUAGE9.net , Thanks to Mariah Daily I


============================================
January 20

■ New Voice Message

Hey!
Yeah, I'm just calling to say thank you, thank you much to everybody out there whose been just like supporting this new single which isn't even technically out yet.

And it's just…I really, really had to take a minute to say thank you and let you know that I love ya and I'm so appreciative of all the support. And um, I think you know this album means so much to me and I'm just very grateful to have such amazing fans.

And yeah, I'm going to have a nice message for you guys tomorrow, um from the studio. we're about to record the remix for "It's Like That", so we'll have a few special guests who will be with me….but anyway, just wanted to seriously really, really thank you and let you know that I'm so excited about this whole project.

And I enjoy ya, appreciate and as always, love you much!

Buh-bye!

今年最初のメッセージが届きました。まず、今回のTEOMのアルバムの意味をよくファンが深く理解してくれているようでとっても嬉しいと言ってます。また、明日ILTのRemixを撮るためスタジオに入るそうなのでそこからもう一度メッセージを入れるわねっと言ってくれてます。またこのRemixには何人か特別ゲストが参加するようでまたちょっと楽しみですね。

I Source : HBF I

============================================
January 19

■ YAHOO! MUSICで新曲を期間限定フル試聴!

3月発売予定のニュー・アルバム『THE EMANCIPATION OF MIMI』収録の新曲「It's Like That」が、Yahoo! Musicにて本日より1週間限定でフル試聴できます。

今すぐ http://music.yahoo.co.jp/ にアクセス!
試聴期間:〜1月26日 8:00 a.m.

また、ニュー・アルバムに関する詳細も情報が入り次第、mariah.jpにてアップしていきますので、忘れずにチェックしてください。

I Source : Universal Music Japan I

============================================
January 18

■ Weekly Multimedia File Up Dated

++ Music Box Tour @ L.A. / Vanishing
++ Music Box Tour @ L.A. / All In Your Mind

>>> Check It Out !!! <<<
============================================
January 17

■ Oprah searches for the biggest Mariah Carey Fan in the World

Are you the biggest MARIAH CAREY FAN in the world?If you think YOU are Mariah Carey's biggest fan -- PROVE IT!

We are looking for the #1 Mariah Fan in the world. If you can PROVE to us that YOU are TRULY her BIGGEST FAN -- you might just get the opportunity to meet her -- 1 on 1!

So if your WILDEST DREAM is to meet the beautiful and talented Mariah Carey, send us a tape TODAY!

***In order to be considered for this program, you must send us a CREATIVE and UNIQUE videotape ASAP (or a slew of pictures) that vividly describes and clearly explains why you deserve to be chosen for this show.

Write or tape your contact information on the case of your videotape, and mail to:

The Oprah Winfrey Show
I am Mariah's #1 Fan!
c/o Team AW
PO Box 917940
Chicago, IL 60661

Visit Oprah.com for further details.

おぉ〜っ、嬉しいお話です。Oprahの番組が姫と二人っきりでお話できる夢の企画を立ててくれているようで世界中のどのファンも応募できます。何か自分のプロフ付きのビデオも送ればいいみたいですが...。とりあえずOprahサイトでエントリー受け付けてますので皆さんも是非チャレンジしてみてはいかがでしょうか?宝くじが当たるより嬉しいかも。ワタクシも年始早々HBFから当選しAPのグッズが送られてきました。ヤッタネ!今年は何かツイテルかも!

I Source: Oprah.com ,Thanks to Mariah Daily I


============================================
January 15

■ Entertainment Weekly's 2005 Forecast in Music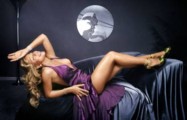 When Island Def Jam chief L.A. Reid invited EW over to preview tracks from the new Mariah Carey album, The Emancipation of Mimi, he danced around his Manhattan corner office, fists raised in the air in celebration. "I don't know if you can tell," he grinned, mid-spin, "but I'm really happy with it." With her 10th studio CD, the five-octave singer is trying to refocus her vision of love with the help of superstar producers like Neptunes, Jermaine Dupri, and man of the moment, Kanye West. Carey hopes the upbeat disc, which includes guest appearances by Snoop and Twista, among others, will have a broad appeal. I know that my hardcore fans will have the ballads that they can cling to, she says, but people who haven't been fans in the past will be able to pick out songs they like as well. It's not formulaic. I'm one of those people who likes to stay with what's familiar, but what was cool with this project was stretching. That newfound sense of liberation is reflected by Emancipation's title ("Mimi" has long been a nickname used by Carey's closest friends and family). When the name of the album leaked to the press late last year, tongues wagged that Carey was pulling a P. Diddy. A lot of people were like, 'Uh-oh, is she changing her name!?' she laughs. There was this whole big drama. I'm like, It's really not that deep. It's what I felt like expressing at that moment.

Pick up your copy of the January 21st issue of Entertainment Weekly on newsstands now.

Photo Credit: David LaChapelle

ほぉ〜っ。久々のオフィシャル・フォトが登場。なんとなくそんな気がしましたが...D.ラ・チャペルさんが撮ったようです。この流れからしてTEOMのジャケも彼が撮ってるっぽいですね。っということでこれは1月21日発売のEntertainment Weekly雑誌にL.A.リードのコメントと共にMariahの写真が掲載されています。今回のアルバムでは昔からのコアなファンが望んでるMariahらしいバラードもあれば今まで別にMariahを聞かなかった人でも「好きだ」っと思えるような歌があるらしいです。

I Source : Mariahcarey.com I

============================================
January 13

■ "It's Like That" makes Billboard charts

Mariah's new single has made its first impact on the Billboard charts. In the January 22 issue, "It's Like That" debuts at #58 on the Hot R&B/Hip-Hop Singles & Tracks tally, and just misses the Hot 100 by debuting at #4 on the Bubbling Under chart ("It's Like That" would be #104 if the Hot 100 chart included more than 100 entries.)

今週のビルボードチャートのHOT R&B / HIPHOPシングル部門でILTはなんとシングル発売されないうちに58位にデビューしました。また、総合シングルチャートのHOT100ではあと4ポイント及ばず104位デビューでした。すごいですよ〜これは!シングル発売されていない場合ラジオのエアプレイリクエスト回数がTOP5には入っておかないとチャートには入れないしくみになってますからかなりファンのリクエストとラジオ局のプッシュが効いた結果だと思われます。皆さんもweb上でリクエストできる放送局もありますので是非リクエストしましょう!できることなら発売される前にチャート1位にしてリリースさせてあげたいですね〜。

I Source: Billboard Magazine , Thanks to Mariah Daily I

============================================
January 13

■ JASMINE'S JUICE


The following report was written by Mariah's friend and MTV News reporter Jasmine Dotiwala:

My Christmas was unforgettable for many reasons. It was once again glamorous, rural, festive and it made me acknowledge how blessed we are.

I spent the holidays with my Christmas cousin, Mariah, who (as only she can) does-it in style. On Christmas Eve I did a triple trudge across the Atlantic from London to Chicago to Denver to snow-covered, bourgeois Aspen where MC's driver scooped me straight up and off to meet the fam' who were all waiting for me at our table at Nobu. (Yep – there's a Nobu in every stoosh location in the world!) After dinner we explored our house on our private mountain. Yes, we even had a mountain to ourselves (how bling-blow is dat?) which was on top of the highest peak and surrounded by snowy, majestic mountains. I gasped for breath every morning as I sat up in my bed, mesmerised by the panoramic, 360-degree postcard-view! Check out the snowman me 'n' Mariah made.

Christmas Day was like something out of a storybook. We all had pancakes and waffles with fresh fruit and hot scotch toddies before settling in front of the biggest tree in the house (there were five) to open our pressies. Mine included a jasmine-scented candle; brown suede, Gucci, knee-high boots; a Manolo Blahnik shoe horn; a fluffy bathrobe; the usual awful tacky Christmas knickers (why?); nice-naughty underwear; Ugg slippers; a Gucci purse; white, cashmere mittens and loads of naughty hip-hop board games which I can't imagine why I got. Everyone insisted it was 'cos of my crazy hysterical obsession last year with Ghettopoly. The rest of the afternoon was spent playing hip-hop knowledge games accompanied by lots of screaming and joy. I then took MC's 12-year-old-Jack Russell terrier, Jackson P Mutley, for his daily sprint up the mountain where we watched little rich kids sledging in the ice and tried to stop Jack from fighting the reindeer which are a million times bigger and more dangerous than him. (I guess it's true what they say about pets being like their owners – Jack's sure got gallons of attitude and won't be put down!) We had 'nuff fun getting dressed in our various ensembles for the traditional American Christmas dinner where we wore long, glamorous gowns and had two turkeys, sweet potato, mash, ham, stuffing, rice, black beans and my favourite… butternut squash soup.

After sneaking in the obligatory lil' nap to recuperate, we got dressed for our Christmas party in town, showing up in a horse-drawn carriage no less – as you do. In the house were hip-hop mogul Steve Stoute; Eminem's boss and Interscope head Jimmy Lovine; Denise Rich; Diandra Douglas (Michael Douglas's ex);-and a hot African American actor who was very attentive to me but un-namable in case I bump into him again. Also in town for Xmas were Will Smith and his family; former US tennis star Chris Evert; Martina Navratilova; actor Kevin Costner and the old playboy actor and legend Jack Nicholson.

For more on our New Years Eve party watch this space.

ジャスミンさんの姫と過ごしたクリスマスの話がUPされてます。おぉ〜!クリスマス・イブの日はどうやらアスペンにも支店がある姫様御用達のお店こと「Nobu」でディナーを楽しんだようです。相変わらず好きですね〜。そして夕食後に自分達が泊まる山の麓にあるロッジへ行ったそうでとっても綺麗な壮大な眺めの良いところだったようです。夜はHipHopボードゲームで楽しく遊んだようです。またJackも楽しんでたようで子供がソリーで滑ってるのを見て追い掛け回してたようです。あと、この写真の雪だるまさんはジャスミンさんとMariahで作ったらしいです。とっても楽しいクリスマスを過ごしたようです。

I Source : The Voice , Thanks To Heroes Of Mariah I

============================================
January 12

■ Weekly Multimedia File Up Dated

++ Endless Love - Instrumental - ( 4.00mb )
++ Reflections Care Enough - Instrumental - ( 3.11mb )

>>> Check It Out !!! <<<

■ Listen To " It's Like That "

HBFでもついにILTが解禁になり、フルで聴けるようになりました。まだ聴いていない会員の方は是非どうぞ。また、先日のラジオのインタビューで本人も言ってましたがアルバム「The Emancipation Of Mimi 」のUS発売日が正式に決定したようで3月22日で確定のようです。

I Source : HBF I

============================================
January 11

■ "Ladies Night" To Start Shooting In May

LEE DANIELS says he's "relieved and really happy that we've finally given birth again."

"I have the stretch marks to prove it," says the Wynnefield native, producer, of "The Woodsman," which premieres Wednesday at the Annenberg Center.

Daniels says the film, directed by fellow homegirl Nicole Kassell, was "a test of wills to prove the Hollywood system wrong."

It's about a sex offender (Center City's Kevin Bacon) dealing with life after prison. It doesn't humanize pedophiles, says Daniels, but instead tells a story of abuse that affects many Americans.

Daniels is still editing "Shadowboxer," which filmed here over the summer.

Next up, he says, is a musical called "Ladies Night," to start filming here in May.

"It's like 'Waiting to Exhale' meets 'Chicago' meets animation," says Daniels.

He says he's cast Indian actress Aishwarya Rai, Mo'Nique, Macy Gray, Missy Elliot, Alicia Keys, Mariah Carey, and Patti LaBelle and hopes to cast Beyonce.

リー・ダニエルズ監督の映画Ladies Nightがいよいよ5月から撮影開始のようです。豪華キャストの顔が並んでいますね。「シカゴ」と「ため息つかせて」とアニメっぽい要素を入れあ仕上がりになるようです、意味不明(笑)この撮影が終わり次第姫様はツアーに入るのでしょうかね?

I Thanks to Mariah Daily I


■ Carey Credits Monroe's Ghost With Song-writing

Mariah Carey is knocking out song-after-song on her new piano, and she credits her prolific inspiration with the ghost of the instrument's former owner - late movie legend Marilyn Monroe.

Carey is delighted with the intensity of her creative output, and puts her success down to the piano that Monroe owned before her death at the age of 36 in August 1963.

She says, "It's as if the keys are haunted. The tunes just come thick and fast. It must be inspired."

姫様が所有するMモンローのホワイト・グランドピアノですが、姫は曲作りにはこのピアノからインスピレーションを多々受けており「鍵盤を叩いてると不思議とインスピレーションが次から次へ沸いてきて歌がたくさん作れるの」っとおっしゃってます。以前Glitterの時もこの話してましたがそのときは多くの雑誌でこの発言をバカ扱いされ酷かったですが...。

I Source : Contact Music I

============================================
January 8

■ Fantasy: Mariah Carey At Madison Square Garden Japan DVD




Release Date: 2005 / 03 / 24
Catalog No: MHBP31

1 Fantasy
2 Make It Happen
3 Open Arms
4 Dreamlover
5 Without You
6 One Sweet Day
7 I'LL Be There
8 Hero
9 Always Be My Baby
10 Forever
11 Vision Of Love
12 One Sweet Day
13 Anytime Need A Friend (Dance Version)

待った甲斐がありました。やっぱり出ることになりましたね(笑)さすがSony。またアルバムの発売に便乗してくれました。もぅ何でもいいから盛り上げてくれたら別にいい。

I Source : Sony Music Japan I

■ More Aspen Photos

December 29, Mariah Carey shopping at a jewelry store in Aspen, Colorado.




今年はまだJackを見てなかったんですがやっぱり一緒に行ってたんですね〜。超可愛い!Jackの表情を見ると楽しんでるというよりはかなり寒がってる感じがしますが...(爆)姫様 は新しいネックレスしてますね〜。小さい写真だと2連の縦の蝶かな?って見えたけどもしや.....っと思い見てみると....やっぱり!(笑)MIMI Necklaceでした。

December 30, Mariah Carey skiing with family and friends at a resort in Apsen, Colorado.




ゲレンデでガッポリ頭まで被ってる姫様の写真なかなか面白いですよ〜。なんとなく足取りもギコチナイ雰囲気が写真見てて伝わってきます(笑)アスペンでのお買い物篇とスキー楽しんでます篇の新しい写真がたくさんUPされてますのでこちらのサイトでご覧ください。

I Thanks to Forever Mariah I

■ Mariah Spends $10,000 in Aspen

Mariah Carey dropped close to $10,000 at the Dior boutique in Aspen. (The PETA-friendly diva wouldn't touch anything trimmed in fur). A source says she wasn't as carefree with the driver who shlepped 1,200 pounds of her luggage from the airport. He got a $50 tip.

同じく先日のアスペンでスキーウェアなど購入するためにDiorのお店に買い物に行ったお姫様ですが1時間の間に100万ほどポ〜ンとお買い物したようです。あれもこれも欲しいっといったアホ買いではなくPETA(動物愛護団体)に参加してる姫様は動物の毛を一切使っていない素材を全て探してもらっていろいろ決めて買ってたらしいです。そういえばJTTWのRemix ビデオの時も偽の毛皮着てましたよね(笑)もちろん「Fake Fur 」って自分で紙持って否定してましたが(笑)あのシーン結構好きなんでふっと思い出してしまいました。

I Source: NY Daily News I


■ Mariah Carey soars with "It's Like That"

Mariah Carey's never been one to cede the spotlight to fellow singers and she refused to be overshadowed again this week when the singer's team leaked her latest single, "It's Like That," to radio one day after Jennifer Lopez' "Get Right" hit the airwaves.

The release of Carey's single, from her forthcoming album, The Emancipation of Mimi, came as a surprise since most expected the singer to release "Say Something" to radio on January 25. Both "Say Something" and "Tonight" (featuring Pharrell) had been leaked via the Internet in early December.

Carey's new album will hit store shelves March 22. The album includes production from The Neptunes, Kanye West, R. Kelly, and Jermaine Dupri.

"For the first time in my life, I feel free and unashamed to be who I really am," Carey said. "I am celebrating that I've grown into a person and artist who no longer feels imprisoned by my insecurities ... I can now honestly say, 'This is me, the real me, take it or leave it."

"It's Like That," aired first on Hot 97 in New York City. Since the leak, over 40 stations have begun playing the track which is getting a great response. The singer is planning to shoot the video with director Paul Hunter. "I'm actually in L.A, getting ready to meet with Paul Hunter, who you know, did 'Honey' with me a long time ago and did the 'Drop It Like It's Hot' video," she told DJ Angie Martinez.

Carey is also launching the fashion line Kiss Kiss next year, planning to pen a series of children's books and plans to take on Broadway. The Emancipation of Mimi, will be her first album since the release of Charmbracelet in 2002.

先日のラジオのインタビューと内容は同じですが、誰もがリードシングルはSay Somethingだと思われていたのに突如現れたこのIt's Like Thatに決定でラジオ局も驚いてたようですがこのILT本当になかなかの評判の良さが反響を呼び、現時点で40局のラジオ局でプッシュでOAされてるようです。また姫はこのIt's Like ThatのPV撮影を行うためLAにいるらしく今回の監督はHoneyで世間に今までとは違うMariahを見せるのに手を貸したポール・ハンターが撮るようで、また新鮮な違った魅力をうまく出してくれるのではないでしょうか?結構期待大ですね。今年は自身のブランドKissKissやらAPの本やらブロードウェイやらツアーの話やら大忙しのスケジュールの姫様。さてどれが年内に実現するんでしょうかね...(笑)

I Source : groovevolt.com I

============================================
January 4

■ It's Like That Lyrics

It's Like That

Jermaine Dupri Intro:
I need everybody to get on the dance floor
It's like that Ya'll, It's Like that Ya'll, Da da da Like That Ya'll

Verse 1 (MC):
I came to have a party
Open up the Bacardi
Feelin' the hot tamale
Boy I know I want you what's it gonna be
This groove taking me higher
I'm lifted and I like it
Boy you got me inspired
Maybe cause I sense that you're really feeling me

Bridge (MC):
Cause it's my night
No stress, no fights
I'm leaving it all behind
No tears, no time to cry
Just making the most of life

Chorus (MC):
Everybody is living it up
All the fellows keep looking at us
Me and my girls are on the floor like what
While the DJ keeps on spinning the cut
It's like that Ya'll, like that Ya'll, th-th-th- Like that Ya'll
It's like that Ya'll, like that Ya'll, th-th-th- Like that Ya'll

Verse 2 (MC):
You like this and you know it
Caution is so explosive
Chickens splashing up lotion(huh???)
Baby come and get it I'll give you what you need
It's a special occasion
Mimi's emancipation
A cause for celebration
I ain't gonna let nobody's drama bother me

Repeat Bridge/Chorus (two times)

Outro w/Fatman & MC:
Let's Go Now, Let's Go Now
Here we go now, Here We Go Now
Let's Go Now, Let's Go Now
Here we go now, Here we go now

音はラジオのノイズ入ってるのでクリアではありませんが。JDプロデュースの曲ですがこれはリードシングルに向いてます!あの耳について離れないバックサウンドいい感じ。っていうか聞き覚えのある音ですが何かのサンプリングでしょうか?それともオリジナル?私的には(ジャネット+デスチャ+C.ミリアン)÷3=It's Like Thatって感じの答えになりました。


I Thanks to fkladis , ILoveMariahCarey ( From FOMM)I


■ First Single: "It's Like That"

We are now able to reveal that Mariah's new single is titled "It's Like That" and as previously reported, should hit the radio stations up to mid-January.

Though the title contradicts recent fan reports of a song named "My Night" that was played at Pure Club on New year's eve, this information comes from All Access, the biggest radio industry information source.

Be sure to keep checking the site for information on the song's radio premiere date.

Update: All Access has now updated their site with the following information:

January 25:
SINGLES:
MARIAH CAREY / It's Like That (IDJMG)

おぉ〜。ここにきて話が一転二転してますがどうやらリードシングルは「It's Like That 」のようです。これは先日のPure Clubでのファンからの「My Night」というタイトルとまた食い違ってきますが、ラジオ局を通して発表されたようなので間違いないようです。また先ほど1月25日のワールド・プレミアを待たずシカゴのラジオ曲で流れた模様。

I Source : Mariah Daily I

■ Pure Night Club More Photos




I Source : Mariah Daily I

============================================
January 2

■ New Voice Message

Happy New Year! Happy New Year lambs!

Yes lambs, happy new year! So we just, actually it's not even New Year's here yet where we are but since we're feeling the spirit of watching everybody on TV in New York and stuff, so happy new year!

I hope everybody had the most fabolous holiday season ever and I'm very very very excited that you all hear the new single which will be happening very soon.

So I love ya, appreciate ya and enjoy ya, ok?

Bye bye!

Mimiからの新年のご挨拶です。ちょうどこのメッセージを入れたときにいた場所はまだ新年を迎えていないけれどっと言ってましたのでおそらく先日のアスペンの時に子供達と一緒に吹き込んだんだろうと思われます。新しいシングルも間もなくお目にかかれるわっと言ってくれてますので楽しみですね。

I Source : Mariahcarey.com I


■ Mariah at Pure Club




As you know by now, Mariah rang in the New Year and premiered her new single, reportedly titled "My Night", at Club Pure in Las Vegas. Brad Catoe, who sent the pictures above, was lucky enough to meet her at the event. "I got to sneak backstage and chat with her! She was nice as usual and being her divalicious self. I enjoyed myself so much and hope to see her again."

David Vader, a Mariah impersonator who goes by the name "Bianca Nunez", also met Mariah. "She signed my fuschia, sparkly Steve Madden heels! It was the only thing I had and thought for sure a nice stiletto would get her attention. Mariah was so nice, dancing up a storm and drinking wine. I was right there next to her. I had a supernice New Years at Pure, which by the way is as gorgeous as Mariah herself."

早速カウントダウンイベントのレポートが入ってきました。姫様は11時50分あたりから皆の前に姿を現し10分前、9分前とカウントし、2分前には皆にシャンパングラスにちゃんとシャンパンが注がれてるか確認してみたりし、そしていよいよ20秒前から秒読みしていきHappy New Year!っと叫び新年が明けたそうです(笑)その後はVIP席と一般と分けられたようです。姫のゴールドの衣装なかなかゴージャスですね。左の写真はもう出来上がってるんでしょうか(笑)それとSay Somethingと交代にリードシングルを作り直してる話が前に出ていましたがこのイベントでMariahのNewシングルと思われる「My Night」がかかってたらしいです。アップテンポでキャッチーなメロディでクラブうけしそうなノリのいい歌だったみたいです。Say Somethingは結局どうなるんでしょうかね?ラジオでも違うヴァージョンが流れたりもしてるしモラレスもRemixを手がけてるし....?ハテナ?

I Source : Mariah Daily I


============================================
January 1 , 2005

■ A Happy New Year !!




皆さん、新年あけましておめでとうございます。ご覧のとおり何も代わり映えのないHPですが(笑)今年も一年Mariahを追いかけながらたくさんのニュースなどお伝えできるよう頑張りますのでどうぞヨロシクです。今年の第一報はカウントダウンの様子になると思いますが、楽しみに待ちましょう。

- Webmaster : shino -

============================================